Mr Flippo - One Man Comedy Show
Espectáculo comico visual para toda la familia - Visual comedy show for the whole family
Un espectáculo familiar sin fronteras de idioma...
A family show without language borders ...
El Artista
Mr. Flippo simpático y polifacético artista, presenta un nuevo espectáculo visual "Smiling Show" sin barreras de idiomas, dirigido a todos los públicos, en el que nos sorprenderá con una variada gama de números llenos de humor, risas, magia y sorpresas.
Mr. Flippo tiene la esencia del Clown que se refleja en los personajes que interpreta en el show, aprovechando todo lo que sucede a su alrededor para condimentar sus números, llenos de cómicas improvisaciones donde el público se vera participe y cómplice de principio a fin.
Un fascinante cóctel lleno alegría y diversión, creando un ambiente familiar que no dejará indiferente ni a los más grandes ni a los más pequeños.
Nunca se es demasiado viejo para fijar otra meta o para soñar un nuevo sueño.
C.S Lewis
The artist
Mr. Flippo likeable and versatile artist, presents a new visual show "Smiling Show" without language barriers, aimed at all audiences, in which he will surprise us with a varied range of numbers full of humor, laughter, magic and surprises.

Mr. Flippo has the essence of the Clown that is reflected in the characters he plays on the show, taking advantage of everything that happens around him to spice up their numbers, full of comical improvisations where the audience will be involved and accomplice from start to finish.

A fascinating cocktail full of joy and fun, creating a family atmosphere that will not leave indifferent to the biggest or the smallest.


You are never too old to set another goal or to dream a new dream.
C.S Lewis
Galería de fotos
Cada espectáculo puede ser diferente, gracias a la participación del publico y de la improvisación de Mr. Flippo y sus personajes.
Conoce un poco mas a este personaje polifacético.



Photo gallery
Each show can be different, thanks to the participation of the public and the improvisation of Mr. Flippo and his characters. Know more about this multifaceted character.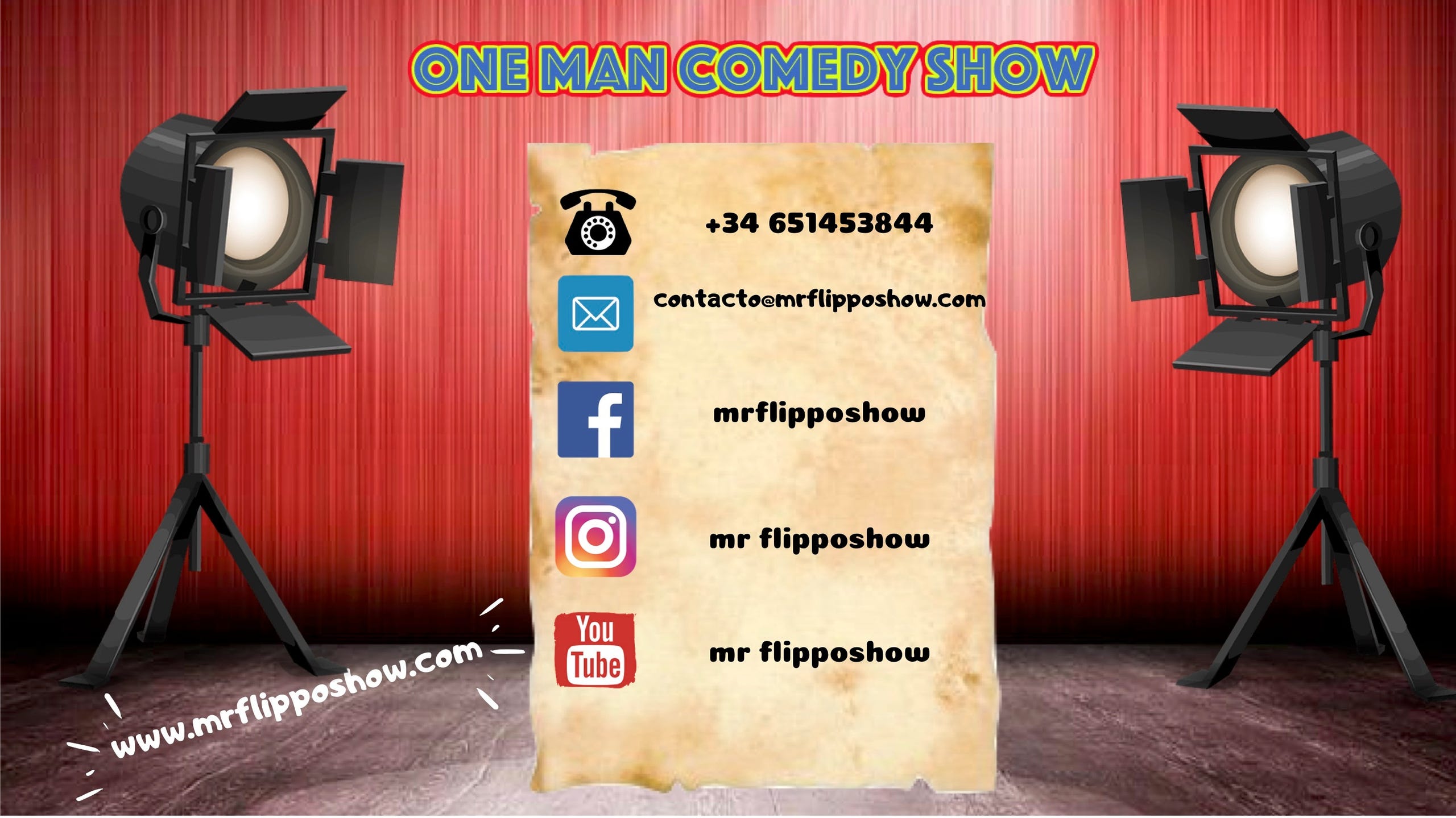 ¿Quieres saber más?
Ponte en contacto con nosotros y estaremos encantados de poder ayudarte.
Do you want to know more?
Contact us and we will be happy to help you.